Wow and 🙁
Crazy crash at Tour De France 2021 🇫🇷

A fan who was holding a message to her grandparents & grinning for the cameras took out most of the peloton with a cardboard sign 🚴‍♀️ 🚴‍♂️ 🚴 #TDF2021 pic.twitter.com/OEZmiSjBE9

— Nigel D'Souza (@Nigel__DSouza) June 26, 2021
However, I feel bad for the woman who caused it. What she did was a stupid mistake versus intentionally interfering with the race:
Police hunt for Tour de France fan, who caused crash
Prosecutors in Brittany have launched a criminal inquiry after the unidentified female caused a massive crash during the Tour de France and went on the run. She could be jailed for up to a year.
I am not saying she shouldn't be held responsible, but that we all do dumb stuff, and maybe should show a little grace…
Of course, I also feel bad for the cyclists injured. Just a horrible thing all around. 🙁
Update June 30, 2021: She's been found: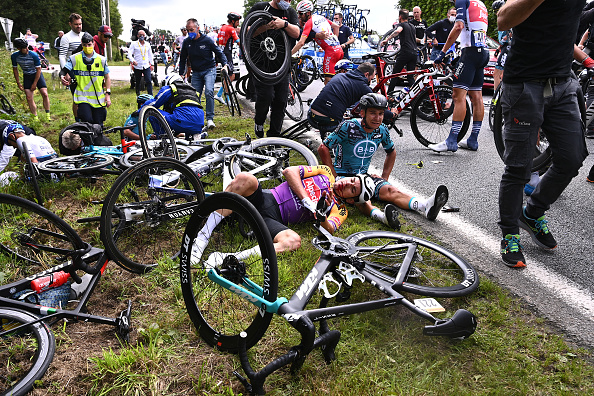 Spectator holding sign causing massive Tour de France crash arrested after being on run
The woman is being held in police custody and faces fines of up to 1,500 euros.
Update July 2, 2021: She won't be charged: